BAS - Not Just an Embedded Web Server
Complete Suite of Embedded Web Development ToolsStandalone Tools for Embedded DevelopmentIoT ProtocolsQuick Look

"RTOS Ready Embedded Web Server on Steroids"

Source Code | No Royalties | GPL Free

Operating System Support:

Embedded Linux, FreeRTOS, VxWorks, QNX, INTEGRITY, Windows & Win CE, POSIX, ThreadX, embOS, RTXC, SMX, MQX, RTOS-32, Mac, and UNIX.

The Barracuda App Server (BAS) is a powerful embedded web server C source code library with an integrated scripting engine. BAS runs on anything from tiny FPGA's to online cloud servers.

The Barracuda App Server is the fastest and most secure embedded web and application server for hosting modern embedded web applications. It is super fast and easy to use, thanks to its optional embedded scripting engine. The scripting engine's sandboxing feature helps you write secure and unhackable web applications that meet today's standards.

Read further to learn why the Barracuda App Server is the ideal secure platform for the Internet of Things:
Barracuda App Server Components Interactive Diagram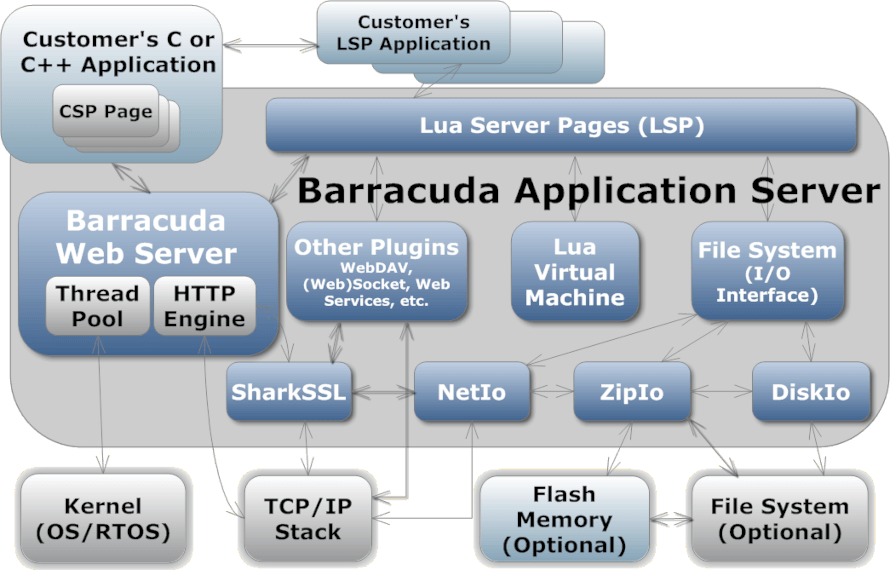 Barracuda Embedded App Server Components:
Product Examples
Schneider Electric's Altivar Process variable speed drives
Schneider Electric's Altivar Process range of products and systems is the next generation of variable speed drives, designed to deliver IIoT benefits. The advanced HMI is powered by the Barracuda App Server and LSP. The Barracuda App Server is also used in the Modicon family of products. Modicon M580 is the world's first ePAC (Ethernet Programmable Automation Controller).
---
Honeywell's VAM and Tuxedo Touch
Honeywell's Vista Automation Module (VAM) and Tuxedo Touch are powered by the Barracuda App Server. Honeywell's VAM and Tuxedo Touch use everyday web-enabled smartphones and tablets as the interface for on-premises control of security, video cameras, lights, locks, thermostats and more.
---
Honeywell's NetAXS
Honeywell's web-based NetAXS controller provides solutions for installations of any size. The Barracuda App Server powered NetAXS enables users to securely manage their system anywhere there's an Internet connection—with no dedicated PC or software costs. The user-friendly design makes it simple to install and easy to operate and maintain.
The Barracuda App Server is also used in Comfortpoint and many other Honeywell products.
Barracuda App Server Features & Advantages
Super Easy TLS and Public Key Infrastructure
The Barracuda App Server comes pre integrated with our own TLS stack, SharkSSL, thus making it super easy to use TLS, not only for you as a developer but also for your customers.
Installing SSL certificates in devices can be very difficult for the average end user; however, our optional automatic SSL certificate management service makes it effortless for your customers to use HTTPS.
Reduced Cost of Goods
With a modern web interface, connected devices can avoid the additional expense of an onboard display. When applications are limited by size, weight, and power constraints - such as military and aerospace applications and in highly competitive markets such as consumer goods - web interfaces deliver functionality and ease-of-use without the additional cost.
Reduced Total Cost of Ownership
Although Total Cost of Ownership (TCO) is a significant factor why many large companies (e.g., Honeywell, Schneider Electric, Mitsubishi Electric) select our Barracuda App Server over Open Source alternatives, there are other good reasons for choosing our product. These include a shortened development time; a high level of security; a framework that can be used as the cornerstone for all current and future features that may be built into products; and, notably, easy access to our experienced Real Time Logic support personnel.
Web Server vs. Application Server: What's the Difference?
As devices have become far smarter, faster, and reliably connected, so has our desire to take advantage of these advances by adding human interface options for real-time dynamic content manipulation in control, analysis, and the ability to refresh, repair, or replace functional attributes, using servers-side logic. See our Web Server vs. Application Server comparison table for more information or check out our list of embedded web server tutorials.