Complete Suite of Embedded Web Development ToolsStandalone Tools for Embedded DevelopmentIoT ProtocolsQuick Look
The Barracuda App Server's Modbus TCP client is an Ethernet implementation of the widely supported, widely used Modbus protocol.
The Modbus client has specifically been designed to enable bridging of Modbus products to modern IoT devices, HTML5 powered HMIs, and for securely connecting Modbus products to the Internet and to Cloud server providers. In addition, the Modbus client enables application developers to design control logic in the easy to learn Lua scripting language. Application developers can now easily design code for controlling any number of Modbus enabled products.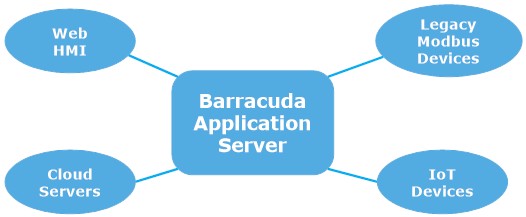 Adding Security to Modbus
The Barracuda App Server provides a wealth of ready to use secure network protocols such as HTTPS/REST, MQTT, and WebSockets. These modern and secure protocols enable Modbus powered devices to be securely connected to Cloud and Web.
Supported Embedded Operating Systems and Platforms
The Modbus stack is available for all platforms supported by the Barracuda App Server, including: INTEGRITY, VxWorks, ThreadX, RTXC Quadros, QNX, Embedded Linux, Windows CE, embOS, SMX, MQX, and FreeRTOS.