Industrial Edge-Controller
In the manufacturing industry, IoT adaptation and edge computing are accelerated to enhance competitiveness and create new value. Real Time Logic has created the simple, user programmable Edge-Controller as a tool to enable development of the next generation industrial edge products thus facilitating rapid IoT and IIoT adoption in the manufacturing industry.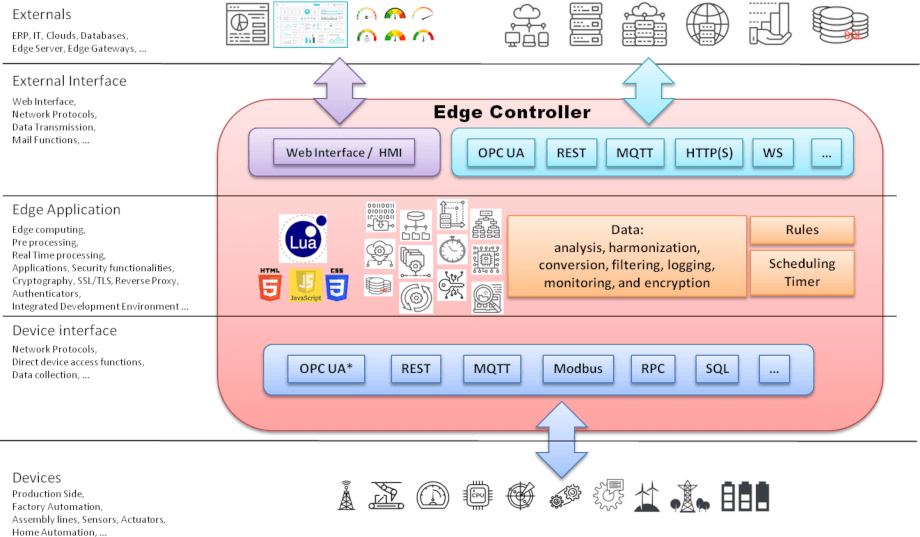 The Edge-Controller bridges the Information Technology (IT) with manufacturing industry's Operation Technology (OT) and Factory Automation (FA), in addition to enabling integration with modern Enterprise Resource Planning (ERP).
The Edge-Controller platform addresses core functionalities required in the emerging realm of edge computing. The Inter Process Communication (IPC) gateway-based architecture enables data collection from throughout the OT/FA environment, regardless of device vendor. Real-time diagnosis and feedback occurs at the production site, enabling real-time local feedback and response. Local edge data processing capabilities enable OT/FA personnel as well as edge applications to abstract data for use in optimizing operations both locally and across global locations. The Edge-Controller further enables IT-driven applications to execute in the OT/FA environment and supports a vast library of edge computing applications.
Factory Automation Interface
The Edge-Controller enables integration with FA systems, manufacturing devices, PLCs, flow computers , safety pressure, temperature monitoring, shutdown systems, artificial lift applications, BTU blending systems, energy measurement and balance, field production analysis, and more.
Business Interface
The Edge-Controller facilitates rapid integration with on-site ERP solutions, business IT systems, and online cloud service providers, including Amazon AWS IoT, Azure IoT, SAP Leonardo IoT, and so on. Security is paramount and the Edge-Controller includes security technology that meets industry's strictest requirements.
User Programmable
The Edge-Controller provides a programming environment and IDE that enables easy development of data collection/analysis, monitoring, connecting to FA devices such as PLCs, and easy integrating with any type of business logic and cloud service.
Lua, a language similar to Python, provides an easy entry into the user programmable Edge-Controller. PLC programmers accustomed to standard industry languages such as Ladder will not need to learn C coding or other difficult to learn computer languages. Lua is a beginner-friendly coding language and is also promoted as a first programming language for children. Lua provides an easy entry for PLC programmers that need to advance the factory automation beyond what can be done with a standard PLC.
Hard core C computer programmers can extend the Edge-Controller with custom C modules and extend the Edge-Controller's already massive set of Lua APIs.
Human Machine Interface
In addition to providing interfacing to standard industry HMI units via OPC-UA, the Edge-Controller enables the design of full web interfaces, eliminating the need for relying on third party industrial HMI hardware. The Edge-Controller includes the Barracuda App Server, an advanced web application framework.