Real Time Logic
Holiday Light Controller Raffle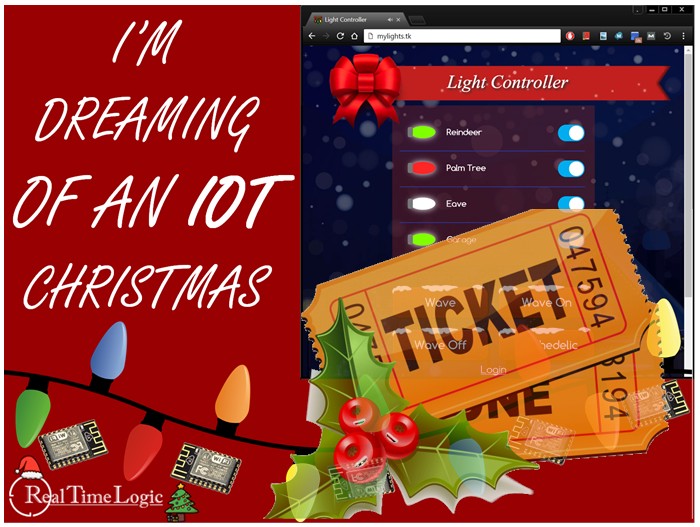 The Christmas Light Controller is a fun IoT project that lets you provide public access to your outdoor lights during the holiday season – perfect for homeowners and parties, where visitors can select a number of lighting transitions via a mobile phone.
The Light Controller lets visitors and neighbors securely control your outdoor lights from their mobile phone by navigating to a URL provided by you. No phone app installation necessary.
In addition to providing optional public access to your lights, the Light Controller also works as a timer and turns the lights on and off at the time configured by you. Lights turned on or off by visitors automatically revert back to their configured default state after some time.
The Raffle

Real Time Logic will be raffling off 10 ready to use Wi-Fi Sonoff relay banks with ready to use (pre-flashed) Light Controller device firmware. Simply enter your email address below to participate. A requirement is that you are able to wire the Sonoff as shown in the image to the right. We do not provide cables!
The Lucky Winners
The 10 lucky winners will receive a ready to use Sonoff and get access to an online server we have setup. You then simply need to sign up for a free domain name, send us the domain name, and configure the Sonoff to use this domain name.
Arduino IoT Christmas Light Controller
If you win the raffle, we provide you with everything you need, except for the required wiring of the Sonoff. Note that we only ship within the United States. If you are not in the U.S. or do not win the raffle, you may still setup the light controller by following our DIY tutorial. For details, see the following:
Participate

Enter your email address to participate in the raffle: